Fun Games Kids Play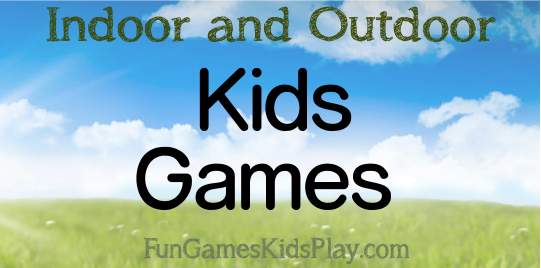 Fun Indoor and Outdoor games for kids of all ages to play!

Fun games kids play is the source for all the best children games for outdoor play. Fun outdoor games, travel games, splash and water style outdoor games, and also a fun page full of rhymes and verses to choose which player will be "it" first! All the best classic and new jump rope rhymes, songs and verses, instructions on how to play jacks and some great tag variations that will keep all the children having fun!
Get the kids outside and having fun with these great classic and modern children's games! Only the best games make it to the website - all have been kid tested and parent approved for outdoor play!

Rules and instructions are provided for how to play every game listed on Fun Games Kids Play. We've also included some fun and crazy variations sent in by our readers on how they have made the games even more fun!
Outdoor Games
Outdoor Games - Fun games for the outdoor play that kids love. Play them anywhere outside where you have several children and lots of room to run!

Classic Games
Classic Games - These are the old stand-by's we played outdoors when we were younger. The best classic children's games that have stood the test of time. Old favorites for a new generation.
Games That Need Require A Ball
Have a ball - Fun list for outdoor play when you have a group of children and a ball. Almost any type of ball can be used with these great games.

Splash and Water
Splash / Water Games - Cool things off on a hot summer day with these fun splash games for kids. You'll need an outside area to play, a water source and a group of kids.

How To Play Jacks
Jacks - How to play the game of jacks with variations included - indoor or outdoor play! The classic rhymes and verses plus some new versions.

Travel Style Games for Kids
Travel Games - For children and families during trips in the car, plane, bus or train. Make the travel time fly by with these great options for kids, tweens and teens.

Jump Rope Rhymes and Hand Clapping Styles
Jump Rope Rhymes - Favorite jump rope rhymes and chants - includes hand clapping rhymes too!

How To Choose Who's It
You're IT! - Fun and fair ways to pick who's "it" for children's games. Great classic verses and new versions that are almost as fun as the games!


If you have a favorite game, or version of a game, that you don't see listed on the website - let us know. We would be happy to include it for others to share. Share a game